Lists of The Courses, Programmes Offered in Tansian University, Umunya and Their School Fees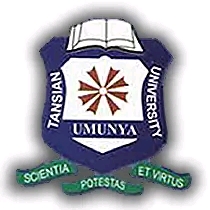 Quite unlike most tertiary institutions, Tansian University was not born out of a desire to make name and acquire material wealth, but to fulfill an innate desire to develop youths and empower them for the challenges of a changing world.
Licensed by the Federal Government under the close supervision of the National Universities Commission (NUC) on May 17th, 2007, Tansian University is determined to actualize its vision of being a dynamic institution with the noble philosophy of inculcating sound, high quality education, without compromising any moral issue. 
And since inception, the University has continued to offer relevant academic programmes designed to produce highly qualified graduates that will be acceptable locally and globally and young men and women imbued with love of universal truth for the benefit of mankind.
Below are the lists of the courses offered in the University including their school fees.
FACULTY OF NATURAL AND APPLIED SCIENCES
B.ScBiochemistry
B.ScChemistry
B.ScComputer Science
B.ScIndustrial Chemistry
B.ScInformation and Communication Technology
B.ScMicrobiology
B.ScPhysics
B.ScPhysics and Electronics
FACULTY OF MANAGEMENT AND SOCIAL SCIENCES
B.ScAccounting
B.ScBanking and Finance
B.ScBusiness Administration
B.ScCriminology and Security Studies
B.ScEconomics
B.ScEconomics and Statistics
B.ScInternational Relations
B.ScMass Communication
B.ScPhilosophy and Religious Studies
B.ScPolitical Science
B.ScPublic Administration
B.ScStatistics
FACULTY OF EDUCATION
B.Ed(Special) Education
B.A(Arts) Education
B.Sc(Science) Education
B.Sc (Ed)Social Science and Vocational Education
FACULTY OF ENVIRONMENTAL SCIENCES
B.ScArchitecture
B.ScEstate Management
B.ScUrban and Regional Planning
FACULTY OF HEALTH SCIENCES
B.NScNursing Science
B.MLSMedical Laboratory Science
B.ScPublic Health
FACULTY OF LAW
CEP (Part-Time) Programmes are available in the following courses:
B. Sc. Accountancy
B. Sc. Banking & Finance
B. Sc. Business Administration
B. Sc. Economics
B. Sc. Political Science
B. Sc./Ed. Education/Accountancy
B. Sc./Ed. Education/Political Science
B. Sc./Ed. Education/Banking & Finance
B. Sc./Ed. Education/Economics
B. Sc./Ed. English and Literary Studies
TANSIAN UNIVERSITY SCHOOL FEES
School Fees vary by faculty and departments. However, below are the school fees being paid by the varsity students. Please note that the school fees displayed below are Tuition Fees only which excludes other charges like acceptance fees, medical fees, SUG, faculty dues, department dues and other registration charges.
ALSO READ: Lists of The Courses, Programmes Offered in Fountain University, (FUO) Oshogbo and Their School Fees