Lists of The Courses, Programmes Offered in Ambrose Alli University, Ekpoma (AAU) and Their School Fees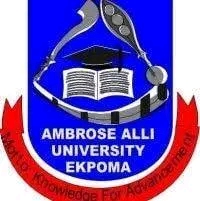 Ambrose Alli University (AAU) is a state-owned university in Edo State, Nigeria. It was established in 1981 by the governor of Bendel State (now Edo and Delta States), Ambrose Folorunsho Alli. Initially known as Bendel State University, subsequently known as Edo State University, and finally changed to its present name in commemoration of Professor Ambrose Folorunsho Alli, AAU is accredited and recognized by the National Universities Commission (NUC).
The Ambrose Alli University Library houses the information resources for the institution.
Below are the lists of the courses offered in the Institution.
Faculty of Agriculture 
Agricultural Economics and Extension
Faculty of Arts
Religious Management and Cultural Studies
Faculty of Basic Sciences
Faculty of Clinical Sciences
Community Medicine & Primary Health Care
Obstetrics and Gynaecology
Pharmacology And Therapeutics
Medical Laboratory Science 
Faculty of Education 
Curriculum and Instruction
Educational Foundations and Management
Physical and Health Education
Vocational and Technical Education
Faculty of Engineering and Technology
Electrical Electronic & Computer Engineering
Industrial & Production Engineering
Faculty of Environmental Studies
Architecture – B.Sc, M.Sc, Ph.D. 
Fine and Applied Arts – B.FA
Geography and Regional Planning – B.Sc, PGD, M.Sc, Ph.D.
Faculty of Law
Commercial and Industrial Law
Jurisprudence and International Law
Faculty of Management Sciences
Faculty of Physical Sciences
Mathematics and Statistics
Faculty of Life Sciences
Faculty of Social Sciences
Library and Information Science 
AAU SCHOOL FEES.
School Fees vary by faculty and departments. However, below are the school fees being paid by the varsity students. Please note that the school fees displayed below are Tuition Fees only which excludes other charges like acceptance fees, medical fees, SUG, faculty dues, department dues and other registration charges.
ALSO READ: