Lists of The Courses Offered in Ansar-Ud-Deen College of Education, Isolo and Their School Fees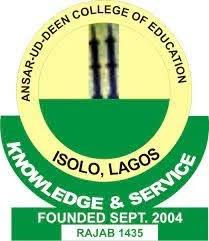 Ansar-Ud-Deen Colleges of Education, (ADCOED) Isolo, is an off-shoot of a defunct training centre, known as the institute of Arabic and Islamic Studies (IAIS) which was established over three (3) decades ago, precisely in 1982, to train qualified and professional teachers in the subjects of Arabic and Islamic Studies. Till the end of 20th Century, the old institute satisfactorily accomplished its assignment within available financial, material and human resources.
Below are the lists of the courses offered in the college and their school fees.
Mathematics/ Computer Science
Mathematics/ Economics
Computer Science/ Economics
Mathematics/ Chemistry
Physics/ Chemistry
Mathematics/ Physics
Biology/ Chemistry
Biology/ Physics
Economics/ Social Studies
Economics/ Islamic Studies
Political Science/ Islamic Studies
Social Studies/ Political Science
Social Studies/ Islamic Studies
CRS/ Social Studies
Political Science/ CRS
English/ Yoruba
English/ Islamic Studies
English/ Political Science
English/ Social Studies
Yoruba/ Political Science
Yoruba/ Social Studies
Yoruba/ Islamic Studies
Arabic/ English
Arabic/ Yoruba
Arabic/ Social Studies
Arabic/ Islamic Studies
English/ CRS
Yoruba/ CRS
Primary Education
Early Childhood Education
SCHOOL FEES 
ALSO READ: Lists of The Courses, Programmes Offered in Summit University, Offa and Their School Fees