Lists of The Courses, Programmes Offered in Edwin Clark University, Kiagbodo and Their School Fees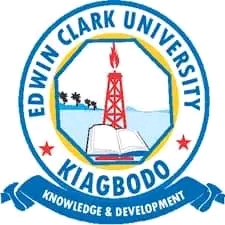 Edwin Clark University is a privately owned university located in Kiagbodo, Delta State, Nigeria. It was approved by the Federal Executive Council of Nigeria in 2015.
Below are the lists of the courses offered in the University including their school fees.
ACCOUNTING
ACTUARIAL SCIENCE
AGRICULTURAL SCIENCE
BANKING & FINANCE
BIOCHEMISTRY
BIOLOGY
BUSINESS ADMINISTRATION
CHEMISTRY
COMPUTER SCIENCE
ECONOMICS
ENGLISH LANGUAGE
HISTORY & INTERNATIONAL STUDIES
INDUSTRIAL CHEMISTRY
LAW
MARKETING
MASS COMMUNICATION
MATHEMATICS
MICROBIOLOGY
PHYSICS
POLITICAL SCIENCE
SOCIOLOGY
SCHOOL FEES.
School Fees vary by faculty and departments. However, below are the school fees being paid by the varsity students. Please note that the school fees displayed below are Tuition Fees only which excludes other charges like acceptance fees, medical fees, SUG, faculty dues, department dues and other registration charges.
ALSO READ: Lists of The Courses, Programmes Offered in Al-Qalam University, Katsina and Their School Fees