Lists of The Courses, Programmes Offered in Crescent University and Their School Fees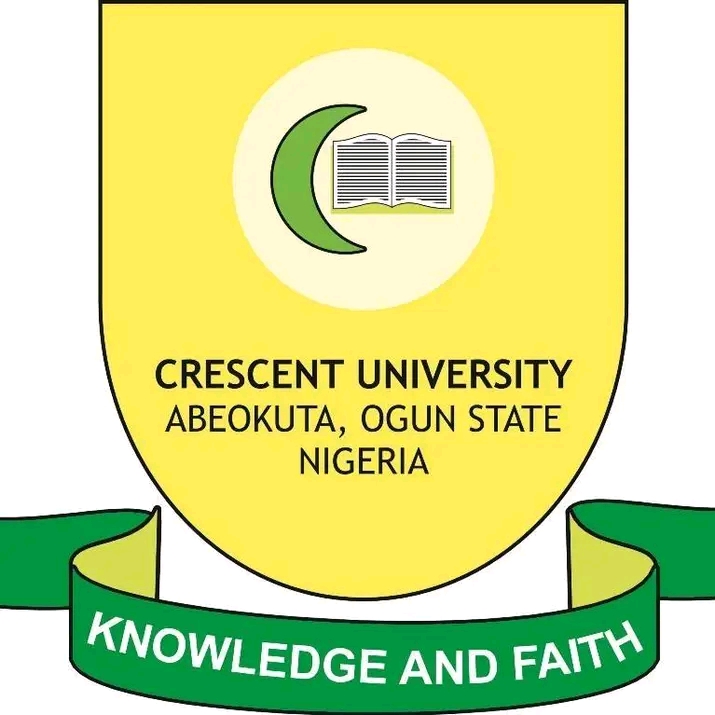 Crescent University, Abeokuta was established as a private university by the Islamic Mission for Africa (IMA) in consonance with her doctrine and vision. The operating license from the Federal Government of Nigeria was obtained from the National University Commission in 2005. The mission of the University is to ensure the delivery of university education in ways that recognize personal discipline and integrity and promote positive societal values.
The University is out to assist in closing the widening gap between attainable potential student population and limited space in Nigerian educational system. Thus, the University hopes to produce the kind of graduates that will fit into current economic agenda of the nation. It hopes to gradually ensure total quality assurance consciousness in terms of its staffing, its teaching and learning environment, its equipment support base and its infrastructure and super structural development.
Below are the lists of the courses/Programmes Offered in the University.
College of Law 
Commercial and Property Law
 Jurisprudence and International Law
Islamic and Customary Law.
College of Natural and Applied sciences
B.Sc. (Hons) Botany
B.Sc. (Hons) Aquaculture and Fisheries
B.Sc. (Hons) Microbiology
B.Sc. (Hons) Zoology
B.Sc. (Hons) Biochemistry
B.Sc. (Hons) Chemistry
B.Sc. (Hons) Mathematics
B.Sc. (Hons) Industrial Mathematics
B.Sc. (Hons) Statistics
B.Sc. (Hons) Physics
B.Sc. (Hons) Industrial Physics
College of Arts, Social and Management Sciences
B.Sc. (Hons) Accounting
B.Sc. (Hons) Banking and Finance
B.Sc. (Hons) Business Administration
B.Sc. (Hons) Industrial Relations & Personnel management
B.Sc. (Hons) Economics
B.Sc.(Hons) Actuarial Science
B.Sc. (Hons) Political Science and International Relations
B.Sc. (Hons) Mass Communication
B.Sc. (Hons) B.Sc. Sociology
College of Information and Communication Technology
B.Sc. (Hons) Computer Science
B.Sc. (Hons) Computer Science / Economics
B.Sc. (Hons) Computer Science / Statistics
B.Sc. (Hons) Information Technology
B.Sc. (Hons) Telecommunication Management
College of Environmental Sciences
Architecture
Estate Management
Environmental and Water Resources Management
CRESCENT UNIVERSITY SCHOOL FEES.
School Fees vary by faculty and departments. However, below are the school fees being paid by the varsity students. Please note that the school fees displayed below are Tuition Fees only which excludes other charges like acceptance fees, medical fees, SUG, faculty dues, department dues and other registration charges.
ALSO READ: Lists of The Courses, Programmes Offered in Al-Hikmah University, Ilorin and Their School Fees