Embody the Essence of being a good Role models and Champions – YCT Rector Charges PhD holders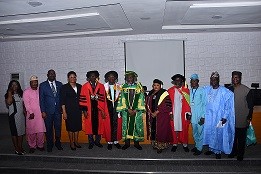 The Rector, Yaba College of Technology (YABATECH), Dr. Engr. Ibraheem Abdul, has charged all PhD holders to embody the essence of being good role models and champions of knowledge.

He made this call at the Maiden Colloquium of PhD holders in Yaba College of Technology themed 'Impacting the College Community through self-development and effective mentoring'.

The Rector said that it is important for holders of Doctoral degrees to commit to taking up the responsibility of developing and mentoring the next generation of scholars and professionals.

'As PhD holders, let us commit to being the role models, the guides and the champions of knowledge that our College community deserves'

'As holders of doctoral degrees, we are entrusted with a unique responsibility- a responsibility to not only advance our individual careers but also to be the driving force behind the development and mentorship of the next generation of scholars and professionals'

On the educational growth of the College, the Rector further called for the joint corporation of all.

'Together, we can create a brighter of our College, our students and our society'

On her part, Dr. Ify Akeredolu, a paper presenter called on all to invest in and understand the importance of building a culture of continuous learning in the College

'Investing in continuous learning is crucial for all staff of Yaba College of Technology to develop professionally, stay current and gain a competitive advantage in the educational sector'

She further stated that although it may be difficult to build a culture of continuous learning but at the end of the day, the benefits will be worth the effort.

Also speaking at the Colloquium, Dr. S.O Momodu gave an insight to developing potentials which would help in overcoming barriers in self-development. He called for all participants to identify self-development programs and the stumbling blocks which participating in developing one's self.

'Staff engagement in self-development programmes is essential for unlocking employee potentials. It is therefore compelling for all staff especially PhD holders and the coming generation to engage in relevant self- development activities.'

To empower excellence in Yabatech through mentorship, Dr. M.A Adebakin charged all to understand the significance of mentoring, explore different mentoring techniques that are beneficial for self-improvements and the College at large.

Furthermore, the former Deputy Rector Administration asked participants to mentor with integrity as "it will foster an environment where staff members excel in their positions and contribute to the College's overall success"
ALSO READ: How to Know She's Pretending to Love You: 11 Signs a Woman Doesn't Love You