Osun State Polytechnic Iree (OSPOLY) Academic Calendar for Part-time Students 202/2023 Session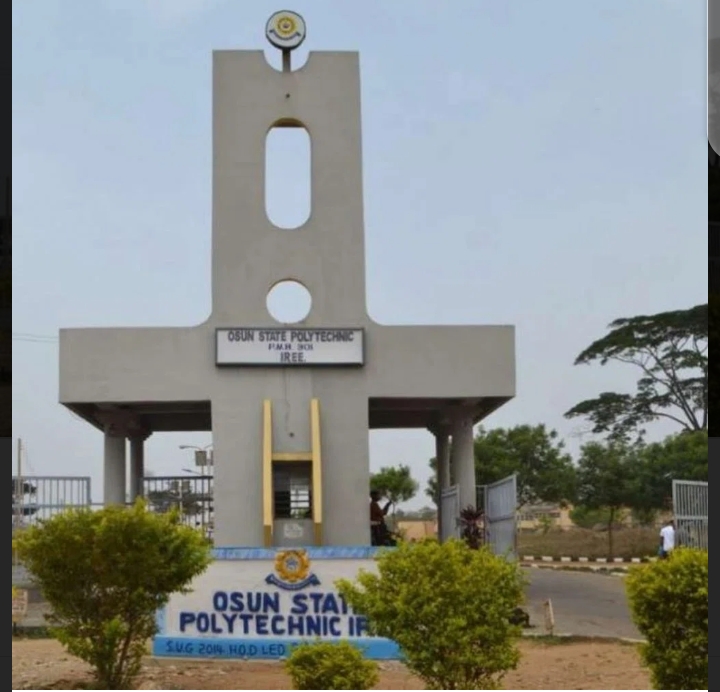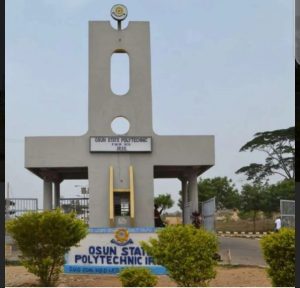 This is to inform all part-time students of the Osun State polytechnic Iree and the general public that the management of the institution has released the approved academic calendar for part-time students, 2022/2023 academic session.
The 2022/2023 session will commence on 27th March 2023.
Resumption date for NDI students is Monday 27th March 2023 as registration and screening will commence on the same date.
Lecture period for NDI students has been fixed for Monday 10th April 2023 to Saturday 8th July 2023. 
Matriculation ceremony will hold on Wednesday 14th June 2023.
Below are the details of the academic calendar for part-time students 2022/2023 session.
| | | |
| --- | --- | --- |
| | Activities | Date |
| 1 | Resumption, screening ad orientation for yr1 students | 27/03/2023 to 07/04/2023 |
| 2 | Late registration with penalty for NDI students | 10/04/2023 to 14/04/2023 |
| 3 | Lecture period for NDI students | 10/04/2023 to 08/0/2023 |
| 4 | Mid semester test for NDI students | 29/05/2023 to 12/06/2023 |
| 5 | Submission of examination question for NDI students   | 19/06/2023 to 23/06/2023 |
| 6 | Matriculation | 14/06/2023 |
| 7 | Exam period for ND1 students | 10/07/2023 to 22/07/2023 |
| 8 | Submission of results for NDI students | 21/08/2023 |
| 9 | Moderation results of NDI students | 28/08/2023 |
| 10 | Submission of results for MIS | 04/09/2023 |
| 11 | Consideration of results by BOS | 09/10/2023 |
SECORD SEMESTER 2022/2023 SESSION
| | | |
| --- | --- | --- |
| 12 | Resumption for NDI students | 07/08/2023 |
| 13 | Lecture period for NDI students | 07/08/2023 to 04/11/2023 |
| 14 | Mid semester test for NDI students | 09/10/2023 to 13/10/2023 |
| 15 | Submission of examination question | 23/10/2023 |
| 16 | Moderation of examination question | 30/10/2023 |
| 17 | Examination period for NDI students | 06/11/2023 to 18/11/2023 |
| 18 | Submission of results of NDI students | 02/01/2024 |
| 19 | Moderation of NDI students result | 08/01/2024 to 12/01/2024 |
| 20 | Submission of results to MIS | 15/01/2024 |
| 21 | Consideration of results by BOS | 15/02/2024 |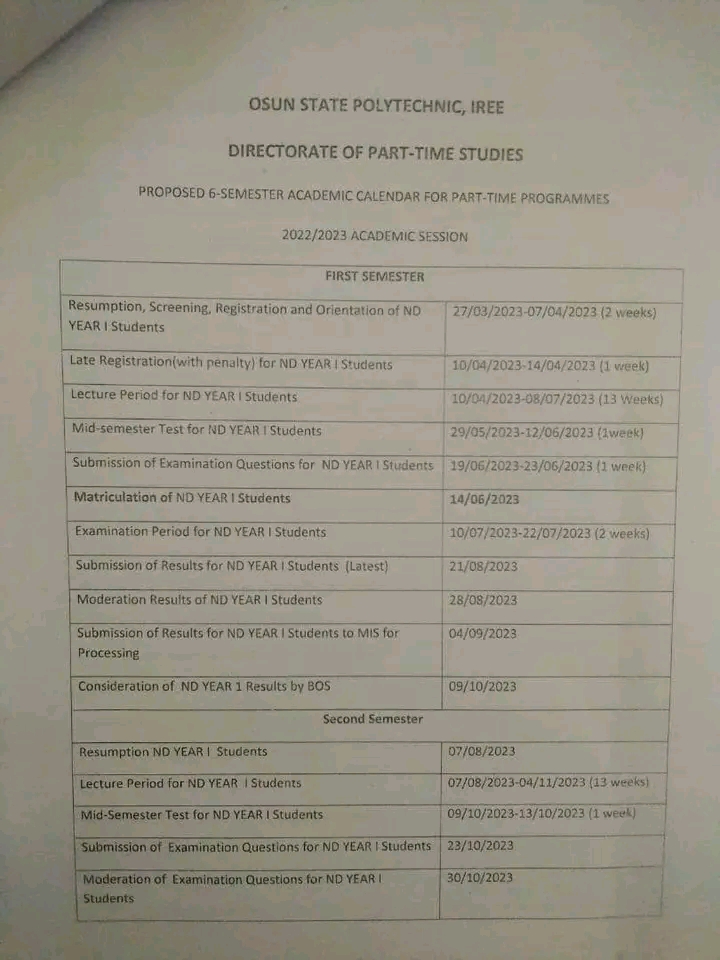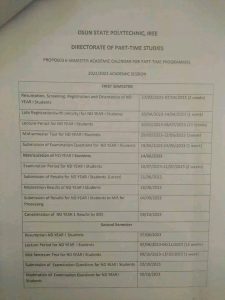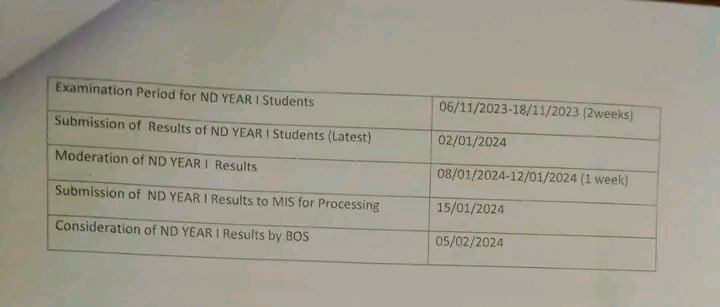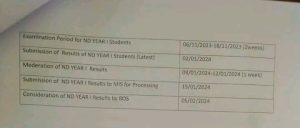 ALSO READ: Federal Polytechnic Ilaro (FPI) Approved School Fees for 2022/2033 Session