Lists of The Courses, Programmes Offered in Clifford University Owerrinta and Their School Fees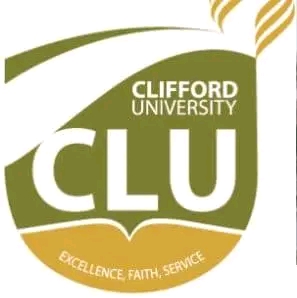 The vision and Mission of Clifford University is to be a leading Institution driving the frontiers of knowledge anchored on the values of excellence, service and faith. To prepare graduates who are adequately and holistically empowered and equipped to serve God and humanity.
Below are the lists of the courses offered in the University including their school fees.
B.Sc. Mathematics
B.Sc. Computer Science 
B.Sc. Cyber Security
B.Sc. Information System
B.Sc. Biology
Law
B.NSc. Nursing Science
B.Sc. Physics
B.Sc. Biochemistry
B.Sc. Chemistry
B.Sc. Industrial Chemistry
B.Sc. Applied Biology and Biotechnology
B.Sc. International Relations
B.Sc. Mass Communication
B.Sc. Public Administration
B.Sc. Banking and Finance
B.Sc. Marketing
Bsc Economics
B.Sc. Business Administration
Bsc Accounting 
B.A. Christian Religious Studies
B.A. English Language
B.A. English Literature
B.A. History and Diplomatic Studies
CLIFFORD UNIVERSITY SCHOOL FEES 
School Fees vary by faculty and departments. However, below are the school fees being paid by the varsity students. Please note that the school fees displayed below are Tuition Fees only which excludes other charges like acceptance fees, medical fees, SUG, faculty dues, department dues and other registration charges.
ALSO READ: Lists of The Courses Offered in Lagos State University of Education, Ijanikin (LASUED) and Their School Fees