FEDPOLEL Governing Council Appoints Omogbehin as Acting Rector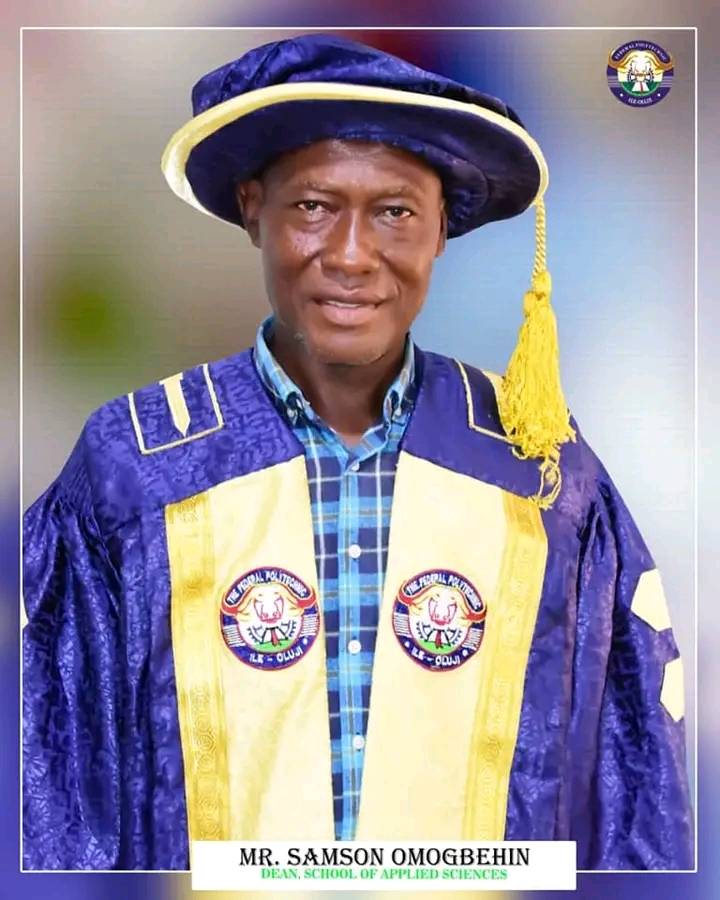 Sequel to the expiration of the two-term tenure of the pioneering Rector of Federal Polytechnic, Ile-Oluji, Ondo, State, Prof. Emmanuel Fasakin, on 10th March, 2023, the Institution's Governing Council has appointed Mr Samson Adehuga OMOGBEHIN as the Acting Rector with effect from 11th March, 2023.
According to a release by the Registrar and Secretary to Council of the Polytechnic, Mr Gabriel Awe, the appointment of Mr Omogbehin is for a period of six(6) months pending the appointment of a substantive Rector or whichever one that comes earlier.
Until his appointment, Mr Omogbehin is a Chief Lecturer in the department of Science Laboratory Technology (SLT) and the pioneering Dean of School of Applied Sciences.

As the Acting Rector, he shall be charged with the general responsibility for matters relating to the day to day management operations of the Polytechnic and also perform such other duties as the Council may, from time to time, assign to him
He holds a Bachelor of Science Degree( BSc.) in Chemical Science from the University of Agriculture, Abeokuta in 1995; Master of Science( MSc.) in Analytical/Environmental Chemistry from Lagos State University, Ojo, Lagos in 2006 and a Master of Process Engineering (MPE) from University of Lagos, Akoka, Lagos in 2008.
He is currently a Member, Institute of Chartered Chemist of Nigeria (MICCON) with twenty-seven(27) years of experience in teaching, research and community service within and outside the Polytechnic System.
He started his sojourn in the academia as a Lecturer 1 from the Waziri Umaru Federal Polytechnic, Birnin Kebbi, Kebbi State in 2009. By dint of hard work and academic excellence, he rose to the position of Principal Lecturer in 2016 in the same Institution before he later transferred his service to the young Federal Polytechnic, Ile-Oluji in 2017.
By his career trajectory, Mr Omogbehin has held various positions of responsibilities which he had discharged with optimal successes. He was at one time, an Examination Officer, 2015-2017; Head of Department, Science Laboratory Technology, 2019-2020; Chairman, School of Applied Sciences Board of Studies, 2020 to date; Member, Polytechnic Tender Board, 2020 to date; Member, Joint Council Selection Board for the Appointment of the Registrar,Bursar and Polytechnic Librarian,2020; Member, Polytechnic Governing Council, Representing Congregation, 2020 to date and Member, Joint Council Selection Board for the Appointment of Rector, 2023.
Mr Omogbehin has to his credit over eighteen (18) Journal Articles; Seven(7) Conference Proceedings and Three(3) Books in his areas of specialisation.
He has equally attended numerous conferences and workshops in order to boost his professionalism and academic delivery.He was at the Cambridge Moller Institute, University of Cambridge, United Kingdom for Research Proposal Writing And Research Grant Management (Cohort 3), 16th – 20th March, 2020.
Mr Omogbehin, who became the first Chief Lecturer in the Institution on 1st January, 2021, hails from Igbotako in Okitipupa Local Government Area of Ondo State. And he is happily married with three lovely children.
ALSO READ: ASUP Beg Buhari to Sign BSC/HND Dichotomy Bill Into Law Before Leaving Office