Poly or Uni: Which one is Better? Advantages of Choosing a Polytechnic Over a University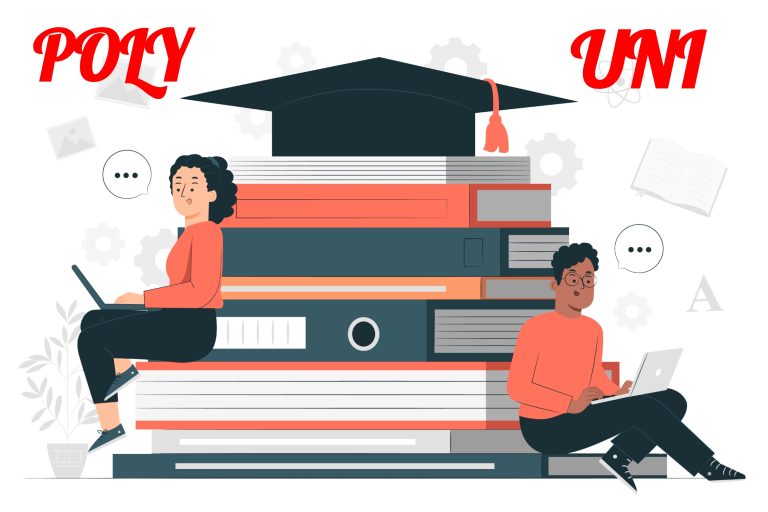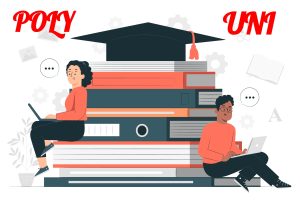 Polytechnic is an institution offering technical education programs. Graduates of polytechnics are awarded National Diploma (ND) and Higher National Diploma (HND) certificates. Polytechnic education is still one of the best in Nigeria, and choosing it is never a mistake.  
Many students love the debate comparing universities and polytechnics and weighing which one is better among these two institutions. In this article, we will explore the advantages and benefits of choosing a polytechnic over a university:
Here are some valid reasons why polytechnics are better than universities:
1. FAST ACADEMIC CALENDAR.
Polytechnics have the fastest calendar compared to their university counterparts. In fact, there are some polytechnics that produce two sets of graduates each year. But in university, a 4-year course could sometimes take up to 6 years.
Also, polytechnic ND and HND programs may not take up to 2 years before they graduate, but in university, it's a minimum of 4 years and even more. So if you want to graduate on time without spending thousands of years on campus, then you should choose a polytechnic over a university.
ALSO READ: Here Are The TOP 25 Most Popular and Populated Polytechnics in Nigeria
2. ADMISSION PROBLEMS.
Polytechnic has made all admission problems easier. There are some students who chase university admission for close to 3–4 years without making it, but through polytechnic, you will conquer the problem of admission with one or two trials. Imagine wasting three years at home writing JAMB to study mass communication. If it were a polytechnic, you could have graduated by now. This is another reason why polytechnics are better than universities.
ALSO READ: 9 Factors to Consider When Choosing Student Accommodation
3. AFFORDABLE SCHOOL FEES.
Polytechnic school fees are cheaper and more affordable than those of the university. The average school fee being charged by most polytechnics in Nigeria is 50k, unlike varsity, where some charge 90k and above per session.
Everything about polytechnics is cheap, ranging from acceptance fees to school fees and handouts. Also, if you are not financially stable, you can do your ND and further your HND when you have the capacity, but at the university, that's not possible; otherwise, you are already a dropout.
ALSO READ: 10 Causes of Carryover in Higher Institutions: Why You Must Avoid Carryover at All Costs
4. CHANGE OF ENVIRONMENT.
The change of environment is another benefit that Polytechnic students enjoy during their course of study on campus, as it enhances their level of exposure. You can decide to do your National Diploma (ND) in Abia State and go for your HND in Kaduna State. That's not all; you could choose to continue with your studies at the university as well. This is another advantage of choosing a polytechnic over a university.
ALSO READ: What to do if on Academic Probation or Withdrawn from School
5. STRIKE.
As far as Nigerian education is concerned, a 4-year course in university is equivalent to 6 years, if not more, due to the ASUU strike. Although the polytechnic lecturers (ASUP) do go on strike too, that isn't as common as the university counterpart. So by the time you are already done with your HND, your friend at the university could still be in his second year due to internal and external strikes by ASUU. 
ALSO READ: Is Agriculture the Best Course? 14 Reasons Why You Should Not Laugh at Agriculture Courses
6. QUICK CERTIFICATE AND EMPLOYMENT OPPORTUNITIES.
In some industries, there will be specifications stating that only ND is allowed for a particular position. You should also note that before you get your HND certificate, you must have an ND, so polytechnic products have job opportunities to absorb them. 
Some might be retained as permanent staff where they're posted for industrial training, and this opportunity isn't common for university products. This is another benefit and advantage of choosing polytechnic over university. Polytechnic certificates are quick, and this may be the reason why their graduates get jobs quickly.
ALSO READ: ND and NCE: Which one is Higher or Better? The Differences Between an ND and NCE Certificate
7. FASTEST LADDER TO SUCCESS.
Polytechnic is the fastest ladder to success, and only people in the system can relate to this. Most of the university and polytechnic lecturers started with ND, meaning they were once polytechnic students before they got their PhD degree. 
By the way, university admission is based on merit, connection, money, and other factors, and all these factors put together can slow you down on your career path, but with polytechnic, you are good to go, and in the next few years you would have graduated.
ALSO READ: What are the Differences Between Polytechnic and the School/College of Health Technology? Find Answers Here
8. PRACTICAL KNOWLEDGE.
Polytechnic products are more practical-oriented than those at the university. If you check most of the polytechnic curriculum, you will see that it is more practical than theoretical. Polytechnic graduates have more practical skills, and they're trained to be technicians, technologists, or professionals, depending on the level of training.
ALSO READ: Lists of the Medical Courses You Can Study n Polytechnic: School of Health Technology Courses in Nigeria
Can I switch from polytechnic to university?
Yes, of course, you can switch from polytechnic to university after your ND or HND programs through direct entry, and this is another benefit of choosing polytechnic over university. I have already make a comprehensive post on how to switch to university with your ND or HND result.
ALSO READ: The 12 Types of Lecturers You Will Meet in Polytechnic and Universities in Nigeria
How's polytechnic better than university?
As stated earlier in this article, polytechnics are better than universities because their admission is easy, their programs are fast, and they offer different academic programs. Students can choose to study full-time, part-time, or on weekends at their own convenience, and they can also further their education at the university if they wish. These are the benefits of choosing polytechnic and why polytechnic is far better than university.
ALSO READ: Lists of The Top 40 Best Universities in Nigeria
In conclusion, polytechnic education, without doubt, remains the best and fastest ladder to success. Perhaps if you want to graduate on time, need a quick certificate, and want an affordable school fee institution, you should choose a polytechnic over a university. Best of luck.
ALSO READ: Lists of The Polytechnics that Accept Pass Grades (CGPA Below 2.50) for HND Admission