Pastor Arrested in AKWAPOLY for Defrauding Students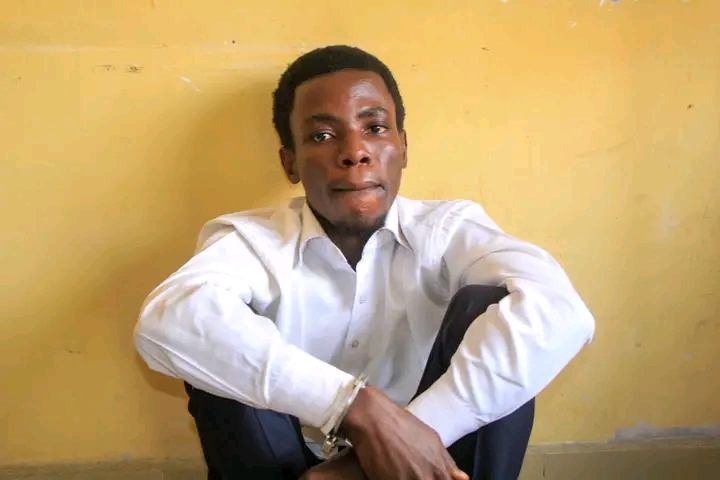 The days of Fraudsters activities in Akwa Ibom State Polytechnic, Ikot Osurua is gradually coming to an end under the able eagle eyes of the Dean, Students Affairs, Mr. Emmanuel Umoh and the operatives of the School to School Peace Initiative (SPI) as another Fraudster was again caught on Monday.
The fraudster, Pastor Duff, Donald Idara of King David Youth Outreach located at No. 16 Elder Simon Street, Mile 4, Port Harcourt, Rivers State was nabbed in the institution following a tip off by a source who had one time fallen victim of his act.
The fraudster who is an HND Student of the institution,  met his waterloo when he attempted to sneak into the institution for his project defence.
He successfully defrauded two current students of the institution; one who is a member of his fellowship. One of them acknowledged that he paid him #50,000 last year as against #55,000 to purchase an HP fairly used laptop whereas unknown to him, the said laptop belonged to a customer who had sent it in for repairs. The second victim confessed to have sent the sum of #45,000 last year via transfer to him to help her get an apartment where he resides after claiming he was the caretaker. He told the girl that he never got any alert and his lines went totally off afterwards.
The suspect after normal internal interrogation by the SPI confessed to defrauding them and many others too in the past and currently just to settle his rent and that of his church in Port harcourt that expired.
The Dean, Students Affairs, Mr. Emmanuel Umoh who was physically present at the SPI Unit where the culprit was apprehended expressed disappointment on the attitude of some persons whose intention is to drag the name of the institution to mud. He cautioned students to be watchful and know those who they do any form of business transactions with.
The Dean further warned all those who are in the business of defrauding students to desist forthwith as their days are numbered while stating that the Rector, Dr. Moses Umobong places zero tolerance for such ungodly acts.