Lists of The Courses, Programmes Offered in Benson Idahosa University, Benin City (BIU) and Their School Fees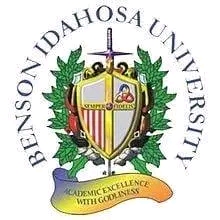 In February 2002, ten years after the application to start a private University, the Federal Government, acting through the national Universities Commission (NUC), graciously granted Benson Idahosa University license to operate. The University started operating as a fully licensed institution in March 2002 with an initial student enrolment of 400, registered into two faculties (Faculty of Arts, Social Sciences,Education and Faculty of Basic and Applied Sciences).
Below are the lists of the courses offered in the University including their school fees.
FACULTY OF SCIENCE
Biochemistry
Microbiology
Chemistry
Computer Science
Mathematics
Physics/Geophysics
FACULTY OF LAW
FACULTY OF AGRICULTURE AND AGRICULTURAL TECHNOLOGY
Agricultural Economics and Extension Services
Agronomy & Environmental Management
Animal Science & Animal Technology
FACULTY OF ARTS AND EDUCATION
International Studies & Diplomacy
English
Agricultural Science Education
Business Education – Accounting Option
Business Education – Office Technology and Management Option
Business Education – Marketing Option
English Education
Economics Education
Mathematics Education
Political Science Education
Library and Information Science,
Computer Science Education
Faculty of ENGINEERING
Electrical and Electronics Engineering
Civil Engineering
Mechanical Engineering
FACULTY OF SOCIAL AND MANAGEMENT SCIENCE
Business Administration
Accounting 
Economics
Banking and Finance
Mass Communication 
Political Science 
Public Administration
Sociology & Anthropology
FACULTY OF BASIC MEDICAL AND HEALTH SCIENCES
Medical Laboratory Science
Nursing Science
Anatomy
Physiology
FACULTY OF MEDICINE
Medical Microbiology
Chemical Pathology
Haematology and blood transfusion science
Morbid Anatomy, Histology, and Forensic Medicine
Pharmacology and Therapeutics
Internal Medicine
Psychiatry
Surgery
Radiology
Paediatrics
Anaesthesia
Obstetrics and Gyaenacology
Community Medicine and Primary Health Care
General Medical Practice / Family Medicine
POST GRADUATE PROGRAMMES.
Doctor of Philosophy (Ph.D) and Master of Philosophy (M. Phil.) in the following areas:
Animal Breeding and Genetics
Agricultural Economics
Biochemistry
Microbiology
Mathematics
Accounting and Finance
Economics
Master of Science (M.Sc.) in:
Animal Science/Livestock Production
Agricultural Economics and Extension Services
Agronomy
Biochemistry
Microbiology
Mathematics
Accounting/Finance
Business Administration
Economics
Political Science and Public administration
Computer Science
Other Masters Degree Programmes:
Master of Arts in International Studies and Diplomacy
Master of Arts in English Language
Master of Business Administration (Executive M.B.A)
Master of Education (M.Ed.) in Educational Administration and Planning
Master of Education (M.Ed.) in Guidance and Counselling
Master of Public Administration (M.P.A.)
Postgraduate Diploma in:
Education
Animal Science/Livestock Production
Agricultural Economics and Extension Services
Agronomy
Microbiology
Computer Science
Public Administration
Banking and Finance
BIU SCHOOL FEES.
School Fees vary by faculty and departments. However, below are the school fees being paid by the varsity students. Please note that the school fees displayed below are Tuition Fees only which excludes other charges like acceptance fees, medical fees, SUG, faculty dues, department dues and other registration charges.
ALSO READ: List of the Courses by Lagos City Polytechnic and their School Fees