Lists of The Courses Offered in Federal College of Education (T), Umunze and Their School Fees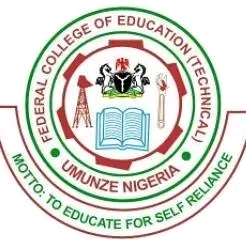 Federal College of Education (Technical), Umunze is a Nigerian technical tertiary institution located in Umunze, Orumba South Local Government Area of Anambra State, Nigeria. It is affiliated to Nnamdi Azikiwe University for its degree programmes.
Below are the lists of the courses offered in the college and their school fees.
Adult and Non-Formal Education
Business Education
Christian Religious Studies / French
Christian Religiuos Studies / Political Science
Christians Religion Studies / Social Studies
Computer Education / Physics
Computer Education / Biology
Computer Education / Chemistry
Cultural and Creative Art / English
Cultural and Creative Art / French
Cultural and Creative Art / Igbo
Cultural and Creative Art / Social Studies
Early Childhood and Primary Education
Early Childhood Care Education
Economics / English
Economics / French
Economics / Mathematics
Electrical / Electronics Education
English / French
English / Geography
English / Igbo
English / Political Science
English / Social Studies
English / Theatre Arts
French / Social Studies
Geography / French
Geography / Mathematics
Home Economics and Education
Igbo / Social Studies
Igbo / Theatre Arts
Industrial Technical Education
Integrated Science / Physics
Library and Information Science
Mathematics / Computer Science
Mathematics / Physics
Music / Theatre Arts
Primary Education Studies
Technical Education
Theatre Arts / Social Studies
Physical And Health Education (Double Major)
Computer Education / Integrated Science
Computer Science / Biology
Computer Science / Economics
Fine And Applied Arts (Double Major)
Cultural and Creative Arts / Theatre Arts
Computer Education / Mathematics
English (Double Major)
Home Economics (Double Major)
Integrated Science (Double Major)
Integrated Science/ Biology
Integrated Science/ Chemistry
Integrated Science/ Computer Education
Integrated Science/ Mathematics
Mathematics/ Biology
Mathematics/ Chemistry
Social Studies/ Theatre Arts
English/ Economics
Mathematics/ Economics
Social Studies/ Economics
Social Studies/ Geography
Social Studies/ Political Science
Mathematics/ Geography
Theatre Arts/ Igbo
English/Igbo Education
French/ Cultural And creative Arts
French/Economics
French/Geography
Integrated Science/ Computer Science Education
Physics/Computer Science Education
Social Studies/Igbo
SCHOOL FEES.
ALSO READ: 16 FUN FACTS YOU NEED TO KNOW ABOUT ENGINEERING STUDENTS