Lens Poly Offa Takes 'Embrace-One-Nigeria-Campaign' To The Streets, Promote Peace, Unity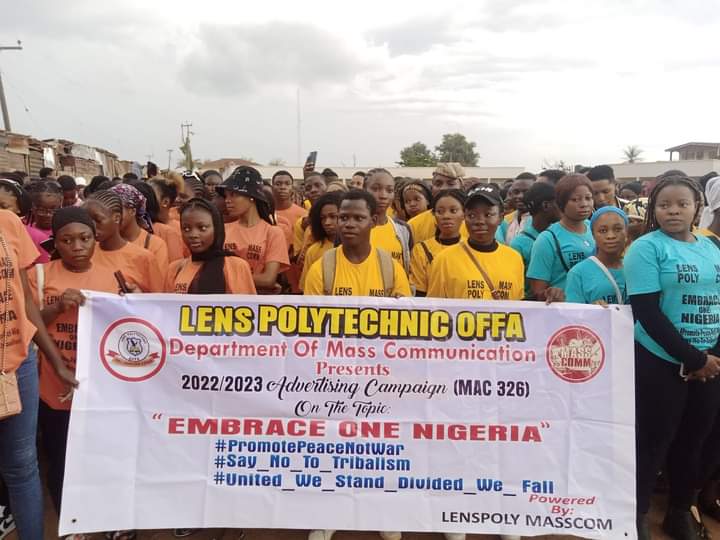 As part of the Polytechnic's efforts to promote peace and unity in Nigeria, the Mass Communication Students of Lens Polytechnic Offa have taken the '#Embrace-One- Nigeria' campaign to the streets in Offa Local Government Area of Kwara State.
The campaign held on Saturday 29th of April 2023 was embarked upon to preach peace, unity, and togetherness among regions and geopolitical zones in the country in the post-election period.
Speaking to the Press, the Registrar of the Polytechnic, Mr. Hammed Sarafa Olalekan noted that the main premise of the campaign is to call the attention of citizens to the fact that Nigeria belongs to Nigerians and it shall remain a united country irrespective of ethnicity and religion.
According to him, " The main objective of the campaign is to call the attention of the people that Nigeria is one, Nigeria belongs to Nigerians. We want all the citizens to embrace unity and imbibe the spirit of oneness irrespective of religion, race, and tribe."
Also speaking, the Director of Students' Affairs, Mrs. Mujidat Bammeke corroborated the assertion of the registrar, adding that peace and unity of the country are paramount to Lens Polytechnic management. She further enjoined citizens to shun tribalism, segregation, and religious bigotry.
She said, "Our institution embraces students from all geopolitical zones and we value the unity of Nigeria as an institution. The campaign is to preach peace and unity. The elections have gone but Nigeria remains. One Nigeria is non negotiable."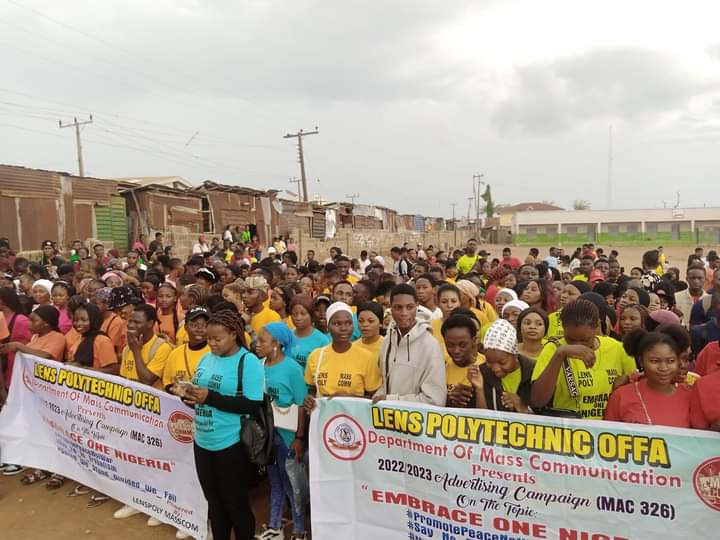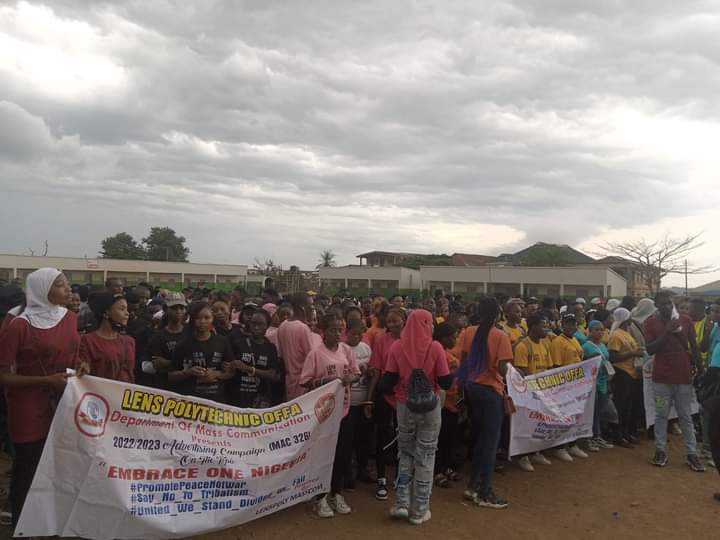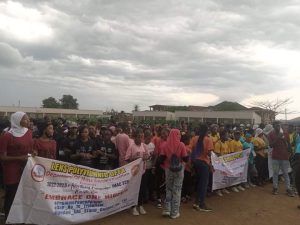 Also speaking, the Head of Mass Communication Department, Mrs Kehinde Adeniran referred to the just concluded election as one of the factors that propelled the peace campaign. She urged Nigerians to shun tribalism, and nepotism, and work with newly elected leaders irrespective of who emerged. Mrs. Kehinde added that there should be equal rights, equal distribution of resources, and working together as one united nation will improve the development of the country.
Similarly, the Public Relations Officer of the Polytechnic, Mr. Nurudeen Muhammad who described tribalism as being loyal to one's tribe ahead of others said the Mass Communication Department of Lens Polytechnic is known for creditable activities and the department will never be silent on the issues of national interest. He urged Nigerians to join forces to wage war against tribalism, ethnicity, and jingoism.
While a lecturer of the Mass Communication Department and the coordinator of the campaign, Mr. Adebayo Adedimeji Lukman commended the efforts of the Polytechnic management and its staff for standing uprightly to the course of United Nigeria. He said the campaign is not the first of its kind and will not be the last. He added that the Polytechnic will continue to advocate for peaceful coexistence and unity of the country.
ALSO READ: Tears of Joy as Chiderah Dilibe Emerges Best Graduating Student of Pharmacy in COOU