Courses Offered in Federal College of Education (Technical), Asaba and Their School Fees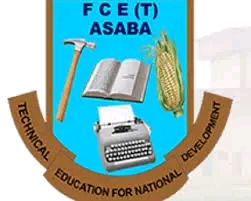 The Federal College of Education (Technical), Asaba is a federal government higher education institution located in Asaba City, Delta State, Nigeria.
It is affiliated to University of Benin (Nigeria) for its degree programmes. It was established by Decree No 4 1986 published in an extra-ordinary Gazette No. 16, vol. 73 of the Federal Republic of Nigeria. The decree was amended by decree No. 6 of 1993.
The College commenced operation in September 1987 at the present temporary site which housed the defunct Asaba Technical College, Asaba. The College has moved to its permanent site along Ibusa Road, Asaba. The school of Business Education, Technical Education and Vocational Education have already moved to the permanent site of the college.    
Below are the lists of the courses offered in the college.
Biology
Chemistry
Computer
Physics
Mathematics
Integrated Science
Agricultural Science
Fine & Applied Arts
Home Economics
Primary Education
Adult & Non-formal Education
Science Education
Curriculum
Psychology
Educational Administration & Management
Accounting
Office Technology Management
SCHOOL FEES 
ALSO READ: Lists of The Courses, Programmes Offered in Dennis Osadebe University, Asaba (DOU) and Their School Fees