Lists of The Courses, Programmes Offered in Kwara State University, Ilorin and Their School Fees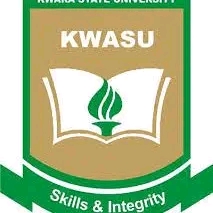 KWASU, is a state-owned university located in Malete, Kwara State, Nigeria. It is the 77th university to be registered by the Nigerian Universities Commission (NUC), and the 95th university to be recognized in Nigeria.
Below are the lists of the Courses Offered in the institution.
ACCOUNTING
ACTUARIAL SCIENCE
AERONAUTIC AND ASTRONAUTIC ENGINEERING
AGRICULTURAL EDUCATION
AGRICULTURAL ENGINEERING
AGRICULTURE
AQUACULTURE AND FISHERIES MANAGEMENT
ARABIC EDUCATION
ARABIC STUDIES
BANKING & FINANCE
BIOCHEMISTRY
BIOLOGY EDUCATION
BUSINESS & ENTREPRENEURSHIP STUDIES
BUSINESS ADMINISTRATION
BUSINESS EDUCATION
CHEMISTRY
CHEMISTRY EDUCATION
CHRISTIAN STUDIES
CHRISTIAN STUDIES EDUCATION
CHRISTIAN STUDIES EDUCATION
CIVIL ENGINEERING
COMMON & ISLAMIC LAW
COMMON LAW
COMPUTER ENGINEERING
COMPUTER SCIENCE
COMPUTER SCIENCE EDUCATION
EARLY CHILDHOOD & PRIMARY EDUCATION
EARLY CHILDHOOD EDUCATION
ECONOMICS
EDUCATION & SCIENCE
EDUCATIONAL MANAGEMENT
ELECTRICAL /ELECTRONICS ENGINEERING
ENGLISH & LITERARY STUDIES
ENGLISH EDUCATION
ENGLISH LANGUAGE
ENTREPRENEURSHIP
ENVIRONMENTAL HEALTH SCIENCE
ENVIRONMENTAL MANAGEMENT & TOXICOLOGY
FINE & APPLIED ARTS
FISHERIES
FOOD ENGINEERING
FOOD SCIENCE & TECHNOLOGY
FRENCH
FRENCH EDUCATION
GEOGRAPHY
GEOLOGY & MINERAL SCIENCE
HISTORY & INTERNATIONAL RELATION
HOSPITALITY & TOURISM
HOSPITALITY AND TOURISM MANAGEMENT
HUMAN KINETICS
ISLAMIC STUDIES
ISLAMIC STUDIES EDUCATION
LANGUAGES & LINGUISTICS
LIBRARY & INFORMATION SCIENCE
LIBRARY AND INFORMATION SCIENCE
LINGUISTICS
MASS COMMUNICATION
MATERIAL & METALLURGICAL ENGINEERING
MATHEMATICS
MATHEMATICS EDUCATION
MECHANICAL ENGINEERING
MEDICAL LABORATORY SCIENCE
MEDICINE AND SURGERY
MICROBIOLOGY
PEACE STUDIES AND CONFLICT RESOLUTION
PERFORMING ARTS
PHYSICS
PHYSICS EDUCATION
PLANT BIOLOGY
POLITICAL SCIENCE
POLITICAL SCIENCE & PUBLIC ADMINISTRATION
PUBLIC HEALTH
PUBLIC HEALTH SCIENCE
SOCIOLOGY
SPECIAL EDUCATION
STATISTICS
TAXATION
YORUBA
YORUBA EDUCATION
ZOOLOGY
KWASU SCHOOL FEES 
School Fees vary by faculty and departments. However, below are the school fees being paid by the varsity students. Please note that the school fees displayed below are Tuition Fees only which excludes other charges like acceptance fees, medical fees, SUG, faculty dues, department dues and other registration charges.
100 Level – #144,000 for indigent and #245,000 for non-indigent 
ALSO READ: Lists of the Accredited Federal Universities in Nigeria and Their School Fees