Courses Offered in Peaceland College of Education, Enugu and Their School Fees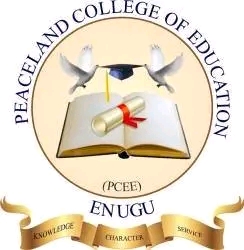 Peaceland College of Education, Enugu is an esteemed College of Education in Enugu state with the motto "knowledge, character and service". Established in 2014, the College offers all round quality teaching, research and public service for the production of highly motivated and skilled Graduates.
Peaceland College of Education is a project of Fredypia Development and Education Foundation, Enugu, Nigeria, whose outlook is religious with Christian principles and a missionary spirit.  The college has been founded and funded by Mama Pia, a Swiss woman.  
All construction work including purchase of property and equipment at the first phase has been possible through funds donated by her. She donated all her earnings to provide education for the "total man" and for sustainable development.
Below are the lists of the courses offered in the college.
SCHOOL OF ARTS AND SOCIAL SCIENCES EDUCATION
CRS/Economics
CRS/History
CRS/Mathematics
CRS/Political Science
CRS/Social Studies
Economics/English
Economics/Igbo
Economics/Mathematics
Economics/Political Science
Geography/Economics
Geography/Social Studies
History/Economics
Social Studies/Economics
Social Studies/Igbo
Political Science/English
Political Science/Mathematics
Political Science/Social Studies
SCHOOL OF LANGUAGES
English/CRSEnglish/French
English/Igbo
English/Social Studies
French (Double Major)
Igbo/CRS
Igbo/French
Igbo/Political Science
Igbo/Social Studies
SCHOOL OF VOCATIONAL EDUCATION
Business Education
Accounting Education
Secretarial Education
SCHOOL OF SCIENCE EDUCATION
Integrated Science/Economics
Integrated Science/Social Studies
Mathematics/Economics
Mathematics/Integrated Science
Mathematics/Social Studies
SCHOOL OF EDUCATION
Curriculum & Instruction
Educational Foundation & Admin
Educational Psychology
General Studies Education
Primary Education Studies (Double Major)
BACHELORS IN EDUCATION (B.A.Ed, B.Sc Ed) PROGRAMMES
Economics/Education
English/Education
Igbo/Education
Political Science/Education
Biology/Education
Chemistry/Education
Computer Science/Education
Health Education
Integrated Science/Education
Mathematics Education
Physics/Education
Business Education
Accounting Education
Office Technology Management Education
Educational Management
Guidance & Counselling
Primary/Elementary Education
Educational Foundation & Admin
Curriculum & InstructionEducational Psychology
General Studies Education
Primary Education Studies
SCHOOL FEES 
ALSO READ: Courses Offered in Peaceland College of Health Sciences and Technology Enugu and Their School Fees